Konrad Knauber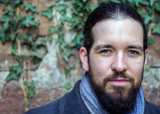 A03
UP3
Medieval Archaeology
Department of Pre- and Proto-History
Telephone: kein Diensttelefon
E-Mail: konrad.knauber@zaw.uni-heidelberg.de
Address
Institute of Prehistory, Protohistory and Near-Eastern Archaeology
Sandgasse 7
69117 Heidelberg
Education
Born 1982 in Speyer, Germany.
Studied Pre- and Proto-History (with focus on Medieval Archaeology) as well as Medieval History and Religious Studies at the University of Tübingen.
Study visits 2007 in Sibiu (Romania) and 2009 in Leipzig.
Since 2003 numerous internships and working contracts with several German cultural heritage authorities and academic archaeological research projects in Germany, France and Romania.
Since 2005 student assistant at the University Museum Tübingen, later on at the local Institute of Pre- and Proto-History and course guidance centre.
M. A. degree 2014 with a thesis project on regional archaeology ("Das Speyerer Allerheiligenstift. Befunde und Funde des Mittelalters und der Neuzeit aus den Grabungen Speyer – Lindenstraße 6, 2002 und 2004").