| | | |
| --- | --- | --- |
| | | |
| INF | Service Project on Information Management and Information Infrastructure | |
| UP2 | Integration of text and research data in new and sustainable publication formats | |
current staff members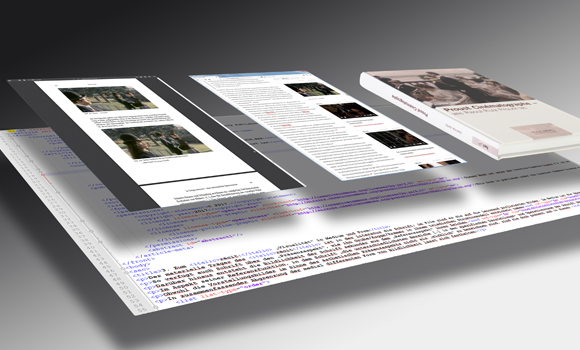 Aims
Development of new forms of digital publications or editions, of and about written artefacts ("Enhanced eBooks")
Close integration of long-term archived research data (digital primary texts or texts of editions, pictures, special images, related metadata, and measurement data) in scientific publications, simultaneously making research data more visible and making access to this data easier.
Implementation of ontology-based data storage as a basis for dynamic and collaborative forms of publication.
Work programme
The subproject UP2 is based at the University Library in Heidelberg, which maintains a university publisher (heiUP), and a picture and multi-media database (heidICON). The university library also maintains, together with the computing centre, heiDATA and heiARCHIVE, a repository for the storage and publication of research data as well as a long-term archive system.
Practical requirements for functionalities in enhanced eBooks are to be identified, based on four "use cases" from scientific subprojects of the SFB.
On the basis of existing expertise in the area of XML-modelling and processing (TEI, JATS/BITS) the control software Heidelberg Monograph Publishing Tool (heiMPT) will be enriched with further specific functionalities for enhanced eBooks.
In cooperation with the Heidelberg Center for Cultural Heritage (HCCH), enhanced eBooks will be published in the newly established publication series from heiUP - "Kulturelles Erbe: Materialität – Text – Edition" (KEMTE).
The modules for picture annotation and text editions of the Heidelberg digitisation system DWork, will be further expanded and consolidated with productive applications for the four chosen subprojects. The use of ontology-based schemata production and data retention should be intensified in both areas (assuring CIDOC CRM compliance).
Data collections of written artefacts from the four chosen Use Cases will be modelled, recorded and published, partly using the virtual research environment WissKI. A stable basis for the intended dynamic web publication of these research results will be provided by ontology-based RDF data structure.

Four Use Cases
A01 UP4 "Epigramme in und an byzantinischen Bauwerken Konstantinopels. Schriftbild und Materialität (4.–14. Jh.)"
A02 "Antike Briefe als Kommunikationsmedium"
A08 "Reliquienauthentiken. Forschungen zu Materialität und Präsenz einer 'ausgesparten' Sonderform früh- und hochmittelalterlicher Schriftlichkeit"
B06 "Welscher Gast digital" (ehem.)